Having rash around eyes is something that no one wants to experience. Other than causing discomfort and pain, it can also make vision difficult. The rash can be a cosmetic problem, especially for the ladies as makeup cannot conceal it. Since it is specific to one location, the rash typically indicates a handful of possible causes. Read on to discover the possible causes of the rash around eyes.
Lyme disease
The disease is famous for causing a rash around eyes. It is primarily spread by bacteria that is transmitted when a person is bitten by a tick. It then causes an itchy rash, fatigue, headache, fever, and nervous system impairment.
Herpes
Eye herpes is a thing that most people do not know about. Specifically, it is a result of the simplex type 1. It is the variety that makes the patient suffer from cold sores. If it affects the eye, it can produce excessive tear production, redness, painful rash, and cloudiness. The eye herpes can be a result of something such as a contaminated contact lens. It is also possible to get it when a person with cold sore kisses your eye.
Autoimmune condition
Autoimmune diseases like systemic lupus can also be a culprit when it comes to the rash around the eyes. The disorder occurs when some part of the immune system attacks the rest of the healthy body parts. It is usually specific to one location. When the rash is caused by this condition, it can also come with other symptoms like rapid weight loss, fever, and muscle pain.
Eczema
Although it is not common to hear that eczema comes with a rash around the eyes, you cannot ignore it as a cause. It is a type of localized skin irritation that leads to redness, dryness, hardening, peeling, bleeding, and breaking of the skin. Eczema is a chronic condition that can make patients' experiences periodic flare-ups. It can even come with perpetual mild symptoms.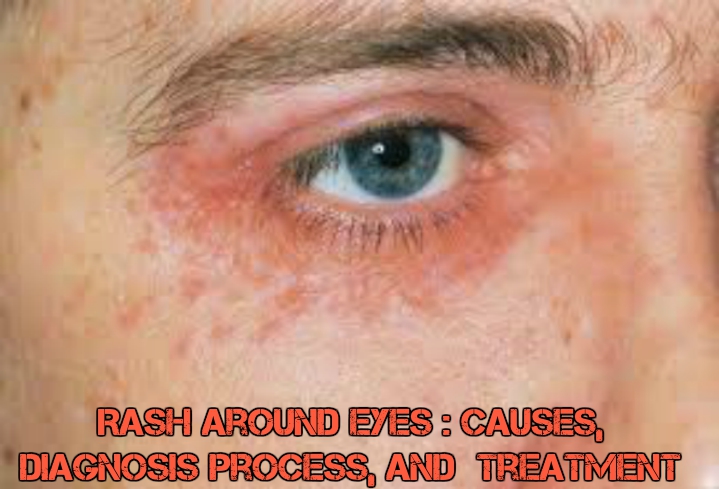 Bacteria
Minor bacteria can affect your eyes if you do not wash your hands properly. Remember to wash your contact lenses properly before use as they can also cause bacterial infection. At most, it will cause swelling and redness around the eyes. However, rash around the eyes can also come about because of cellulitis. It is a skin infection that is caused by strep or staph bacteria. The disease develops a swelling and a red rash that feels warm to touch. It comes with other symptoms such as chills, fatigue, fever, and development of abscesses. Anyone who suffers from this must see a professional doctor with immediate effect so that it does not evolve to a blood infection.
Cosmetics
Not many people will allow foreign objects to get anywhere near close their eyes as it may cause constant problems. The rash is therefore brought about by the use of cosmetics that do not sit well with the area around the skin. It can be anything from eyeliner, eyeshade, mascara, sunscreen, soap, facial washes, face creams and similar products. Expired cosmetic products can also be home to fungi and bacteria that can be deposited near the eyes when a person applies them. Contact dermatitis can irritate the skin around the eyes as well as cause inflammation and redness.
Allergic reactions
The most common allergy that causes this rash is hay fever. However, there are also other allergens that can cause the same reaction such as insect bites, dander, oak/poison ivy, and some types of food. If the rash comes about because of an allergy, it can also lead to puffy and watery eyes.
Rubber
The rash that develops around the eyes can also come about when a person uses snorkel masks and swimming goggles. It mostly happens in children who want to wear the mask and goggles too tight. The rubber irritates the skin, which then provokes a reaction from the skin that does not last for long in most cases.
How to diagnose rash around eyes
Visiting a professional health worker with this issue will warrant some questions such as:
• Has the rash affected the eye in any way?
• Are there things that you do that trigger the development of the rash?
• Do you experience other symptoms with the rash such as pain or fever?
• How does the affected skin feel? Is it dry, flaky, bumpy, bleeding or peeling?
• Do your eyes get extra puffy and teary?
• Does the rash feel warm to touch and is it spreading to other areas?
• What face products do you use and how long have you been using them?
• Are your eyelashes affected?
Treatment of rash around eyes
Various remedies can be used to eliminate the rash around the eye. It is, however, best to seek medical attention before trying any of them so that you can be on the right path. Talking to a doctor will help identify the cause so that you can use the appropriate treatment. Some of the options available include:
· Topical application or oral/injected corticosteroids- this help to deal with itching, redness, inflammation and severe allergies.
· Antibiotics– they come in handy when rash around eyes is brought about by bacterial agents
· Antihistamines– they are recommended for severe itchiness
· Immunomodulators– they are best when inflammation is caused by allergic reactions.
· Saline solution– salt and water solutions are used to mimic body fluids. They can also help to moisturize the eyes so that they are not too dry. The solution can also contribute to the removal of any irritants from the eye.
· Cold compress– it is a standard when dealing with swelling and inflammation. Leave the cold compress on for about 10 minutes to see if the condition will improve,
· Cucumber slices– soak thick slices of cucumber in cold water before applying to the affected area. Let it sit on the eyes until it is no longer cold. Repeat the process until you use up a whole cucumber.
Other remedies that can be utilized include humidifiers, baby shampoo, aloe vera, and potatoes. You should always try to also avoid irritants as they make the condition worse than before.